I had a good Thanksgiving so far...and it's only halfway over. Still got another dinner tonight at my folks' (along with my brother's going away party).
I made pumpkin cookies (which weren't bad...at least they were lowfat) and mystery pecan pie (first pie I ever made COMPLETELY from scratch...even the crust!). The pecan pie was so delicous...Hubby's uncle said, "Wow...I've never had pecan pie like that!"
I mentioned the pie to my brother-in-law (even showed him the cook book) on Tuesday night when he came over. On the night before Thanksgiving, he was hoping I would bake that pie since it sounded so good. He had some during the dinner! ;)
Pillsbury bake-off cookbook from 1981. My mom had made this pie a lot when I was growing up...and it's one of my dad's favorite pies.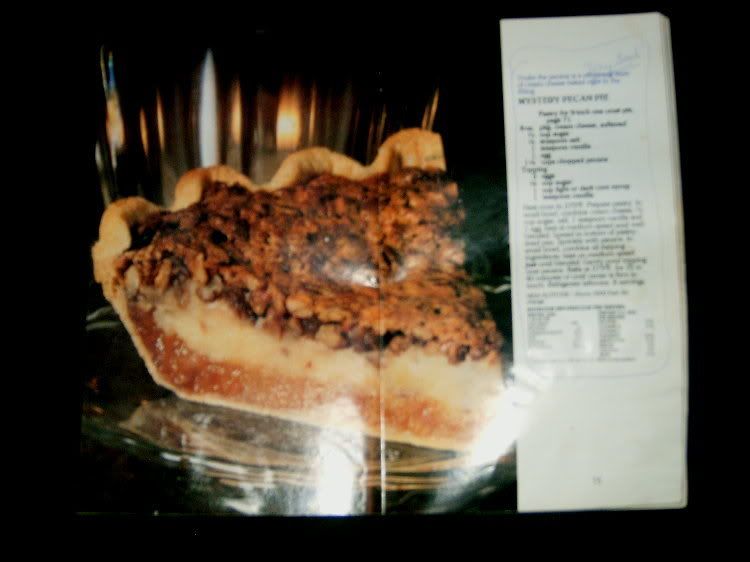 The recipe page...looks really yummy. The pecan pie has cream cheese in it. That's why it's a mystery. :-)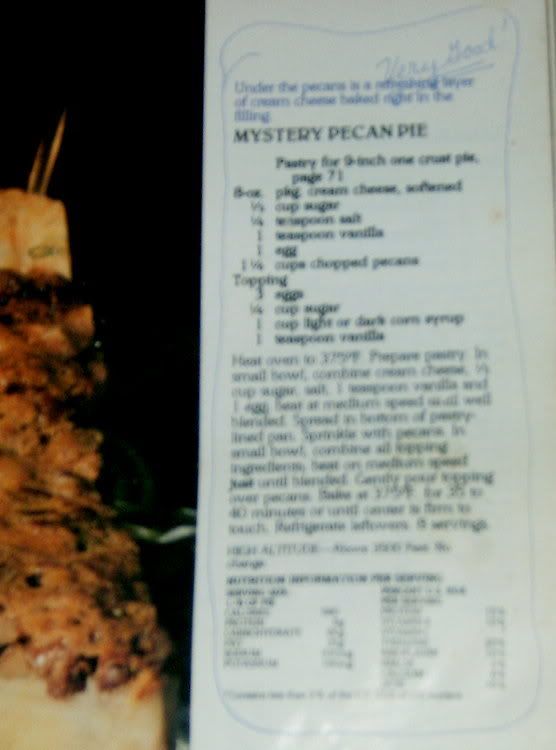 You can see what my mom wrote on the top "Very Good!"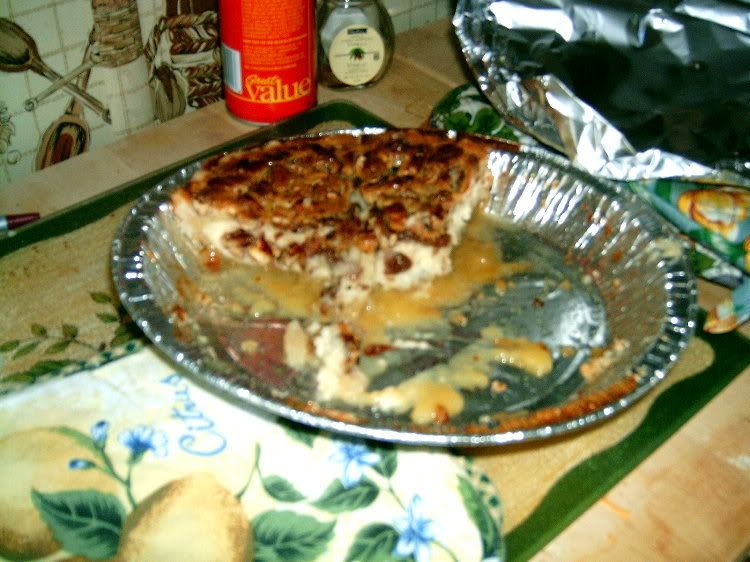 My very first pie from scratch. Definitely DELICOUS!!!!!
Recipe:
MYSTERY PECAN PIE
unbaked 9 inch crust (or prepared pie pastry)
8 oz cream cheese, softened
1/3 cup sugar
1/4 tsp salt
1 tsp vanilla
1 egg
1 1/4 cups chopped pecans
Topping
3 eggs
1/4 cup sugar
1 cup light or dark corn syrup
1 tsp vanilla
Heat oven to 375F. In small bowl, combine cream cheese, 1/3 cup sugar, salt, 1 tsp vanilla and 1 egg; beat at medium speed until well blended. Spread in bottom of pastry lined pan. Sprinkle with pecans. In small bowl, combine all topping ingredients, beat on medium speed just until blended. Gently pour topping over pecans. Bake at 375F for 35 to 40 minutes or until center is firm to touch. Refrigerate leftovers. 8 servings.